From Al to Zn we can do it all!
We are a technology company offering comprehensive services including everything from design, prototyping, topological and material optimization, to design and production of tools, to serial deliveries of zinc, aluminium alloy, and plastic moldings. In addition, we provide a wide range of finishing operations including CNC machining, surface treatment, and sub-assembly.  In each area of expertise, we maintain the highest quality standards while adhering to strict environmental regulations to protect our blue planet for generations to come.
Development and preparation of production
Together with our client's R&D staff and engineers, we design the optimum casting / molding solution to best meet your product requirements. With our four core technologies (Zn, Al, plastic and finishing) centrally located, we advise our clients on what the most economical solution is, saving development costs and time to market.  We assist our client's design team in the topological optimization of each product.
Our product and tool designers utilize CREO software, but can seamlessly adapt to your preferred software format.
Our tool shop has the capability to fabricate the necessary tools and fixtures needed to manufacture your product.  Working closely with the production plants, we test each component and provide samples or verification series to ensure quality and customer satisfaction.
Production
We process various non-ferrous metal alloys and a diverse spectrum of plastic materials using different technologies.  With the ability to produce intricate and complex parts from 1g up to 20kg/pc, there is no project too small or too large for our company.
For small series castings, we utilize gravity casting into steel molds.  For larger series, we will design a low-pressure casting mold with additional cavities to ensure a quality end product.
For both these technologies we utilize sand cores which reduces costs while retaining functionality.
Our on site, state of art heat treatment facility is ideal for aluminium alloy castings.
For larger size castings, we utilize a high-pressure die casting facility fully equipped to suit your needs.
For small, high-precision parts to be produced in large volume, we recommend Zinc alloy high-pressure die-casting.  This die-casting tool is resilient and has an impressively long lifespan.
With the capabilities to process up to 120 different resin types, we are experts in technically demanding moldings such as threaded parts.  Our clients continue to be impressed by the high quality molds we produce with this technology.  We also have the ability to overmold some of our castings or sheet metal stampings. We produce highly visual detailed parts for the most demanding customers by meeting and exceeding their expectations.
As your production volume changes over time, we can easily adjust to your business needs while assisting your R&D and engineers to migrate from one technology to another one as needed.  As your business grows, we can migrate from low-pressure to high-pressure casting technology.  Should production of your series need to be decreased (i.e. after-market), we can quickly and efficiently transition from high-pressure die-casting to gravity or low-pressure casting technology.  Our vast experience with a variety of materials allows us to replace one material with another based off our client's needs (ex: metal to plastic, saving the metal core and overmoulding by plastic resin, etc).
We provide cast prototypes using 3D printed sand forms or print your parts directly from the required metal.  Using this rapid development technology saves crucial time and money.
After-casting operations
Selected castings from aluminium alloys can be heat treated directly in house – T4 and T6 heat treatment available.
We have the ability to machine any of our castings on modern CNC equipment located in Poříčany plant. Machine park is equipped for machining of Aluminium and Zinc parts as well.
Thru the network of our long term partners we will provide any surface treatment/finishing you require.
In two of our plants (Poříčany and Slaná) we are ready to offer you thermal deburring (TEM) which is designed for after-casting or after-machining deburring especially for parts with complex geometry including internal channels or narrow gaps. During the process ignition of compressed gasses mixture inside the pressure chamber increases temperature which leads to heat pulse strong enough to incinerate burrs, bot not as strong to damage the part itself.
For sub-assemblies, we provide the necessary sub-supply (fasteners) and assembly up to the final product.
In cooperation with your Marketing team, we will design and ensure the appropriate packaging for your products.
We will deliver your final product anywhere you require.
Other products
Production of toy kits and educational games for children – Our goal is to provide children the joy of playing, inspire creativity, while developing their interests and abilities. In our kits, we see a channel for the development of a child's imagination, playfulness, spatial imagination, and construction skills.
3D metal printing – We can tailor your products to actual product needs. We optimize product, volume, and use first-class materials to create the highest quality design.
3D printing of molds with conformal cooling – Molds are printed using DMLS technology, providing the opportunity to integrate conformal cooling into the mold.
3D printing of sand cores and molds – We utilize VoxelJet technology to print sand molds, allowing for a larger building space to be used.
We manufacture LPDC machines of our own design. These machines are tailored to your specific needs.  Naturally, we provide subsequent technical and SW support.
Migration of low-pressure die-casting (LPDC) to high-pressure die-casting (HPDC).
One of our greatest successes with a long-time client was the re-acquisition of the project to produce an aluminium alloy casting.  The product was a radio support frame of a microwave antenna.  The customer initially anticipated small annual quantities of several thousand pieces annually so we designed a low-pressure, two-cavity mold with subsequent two-step machining as the tool for the process.  The weight of the part at the time was 2.75 kg.  After the delivery of approximately 27,000 pieces, the volume needed increased.  Shortly after delivery, we lost production of this part as it was transferred to a low-cost-country (Asia).  The design of our LPDC casting was taken by the company in Asia, turned into a HPDC tool without any design optimization, resulting in customer's problems almost immediately.  The parts were porous, having shrink spots in the dense walls.  The client had many issues approving the parts in series, and eventually the Asian castings under the approved deviations, were transported back to the assembly plant in the Czech Republic.  Our customer's buyer worked with us to return the product.  To minimize the time needed to redesign the part for HPDC we were still able to use the LPDC tool and with proper process variations we made another 4200 pc.  In the meantime, together with the customer and the Asian design office, we worked on the product topology optimization and re-design to make it feasible for HPDC.  This optimization reduced the part weight and eliminated unnecessary machining.  In record time, the successor of the original part was created.  In the two years that followed, more than 34,000 pieces were delivered.  The weight of the HPDC part has been reduced to 1.71 kg/pc (62% of the original LPDC part weight) and the price of the new part was reduced to approximately half of the original LPDC part.
Migration of high-pressure die-casting (HPDC) to low-pressure die-casting (LPDC)
One of the significant successes of our company began when a customer presented an aluminium alloy HPDC cast part from a Swiss foundry with a number of quality problems.  The most concerning issue being that there was a leak after machining.  The complexity of this part was even more challenging as the casting tool had sliders in each direction.  In addition, internal quality was critical to the customer.  At the time, we were unable to process aluminium alloy HPDC since we had not yet acquired the former POLAK HPDC foundry.  We proposed migration from HPDC to LPDC.  Though the new LPDC part is not as smooth as it was from high-pressure casting, it has thicker walls and a slightly higher weight. In addition, the casting was slightly more expensive as the takt time on LPDC is approximately 6 times longer than on HPDC.  The cost of machining was similar.  We extensively explained each these pro-and-con differences to the customer.  They chose to continue production with our company.  Currently, we have the third LPDC mold for this part in operation.  The original high-pressure die-cast parts produced in Switzerland had a reject rate of around 75% due to leakage after machining.  Since switching to our foundry, we have delivered over 70,000 pieces with PPM near 0 for this customer and they could not be more pleased.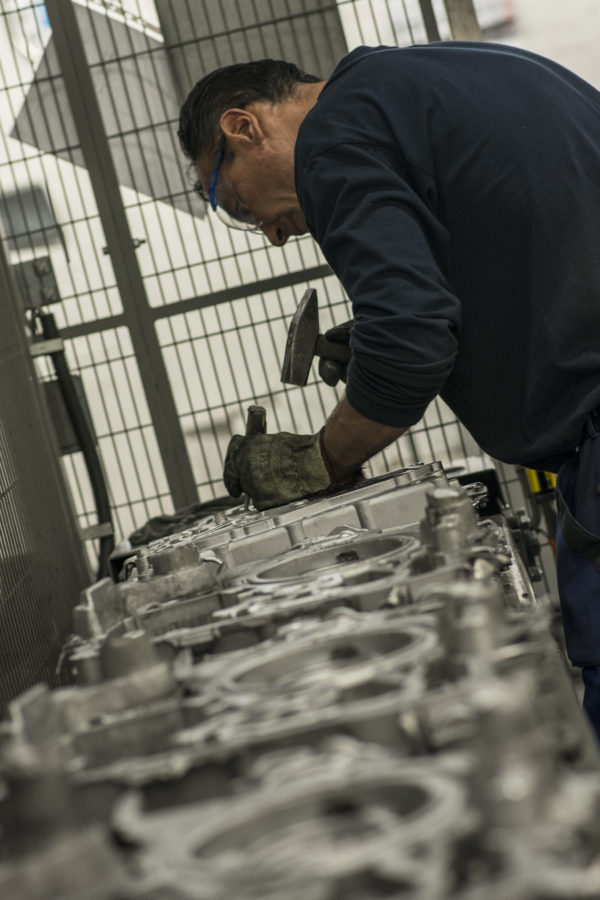 Migration of several low-pressure die-casting (LPDC) parts into one high-pressure die-casting (HPDC) part
We had the honour and privilege to show another customer the way to unify several very similar LPDC parts and migrate them into a single, variable HPDC tool.  Instead of 4 LPDC molds and the resulting 6 casting variants, we created a solution that allowed the 4 different casting variants to be combined into one high-pressure die casting mold with 4 interchangeable elements, saving machining time and casting weight.